Debi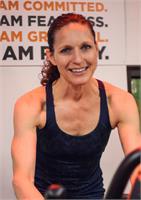 Debi graduated from Slippery Rock University of PA with a Bachelors in Physical Education and Emphasis in Lifetime Fitness. She has certifications in the following. AFAA Group Exercise Instructor,TABATA BOOTCAMP, BEACHBODY PIYO and
MAD DOGG SPIN.
She enjoys training members at ALL fitness levels. Debi finds it especially rewarding to take part in an individual's fitness journey and assist them in attaining their goals.
One of Debi's favorite quotes, although referring to Yoga, is a belief that she strives to carry out in all of my classes and personal training sessions: "The Yogic Practice is a silent path that enriches you from within- use it as a measure to center yourself peacefully and not as a route to establish your inferiority or superiority to another" ~Doreen Virtue(ANGELS)
Debi instructs the following:
The best way to start a Sunday morning! This 60 minute class will get your heart pumping and through a combination of high-intensity intervals and endurance elements it is designed to inspire you to better fitness. It is important to note, we coach riders to adapt each session to their own fitness level and goals.

Believe, Achieve, Evolve!




Evolution Circuit 45 targets the whole body through endurance, strength and power exercises, incorporating all aspects of fitness. This 45 minute circuit workout is limited to 8 people, and will be tailored to your own fitness level. It will surely get your heart pumping, sweat dripping and help you achieve visible toning and results.




Get a full body workout with Evolution's Cycle & Sculpt.

Class consists of a 25 minute, heart pumping, high intensity ride. Class then moves to the back studio for 25 minutes of toning utilizing various unstable surfaces such as stability balls/cushions/blocks. This will help improve your balance, strength and stamina!