Jen Harmon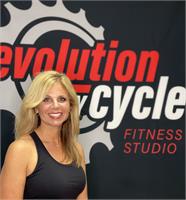 Jen has been spinning for 18 years, and has been hooked since the first time she got on a bike at Equinox in NY. She decided to bring her personal passion for Indoor Cycling to the next level, by getting her Schwinn Certification. She is here to share her positive energy! You are sure to have an excellent ride with her inspiring music and positive coaching.
Jen Harmon instructs the following:
40 Minute Class guaranteed to get your heart pumping, you sweating and torching calories. This express class will allow you to get your workout in and home in time for dinner! Perfect for all fitness levels, from beginner to advanced rider alike!




The best way to start a Sunday morning! This 60 minute class will get your heart pumping and through a combination of high-intensity intervals and endurance elements it is designed to inspire you to better fitness. It is important to note, we coach riders to adapt each session to their own fitness level and goals.

Believe, Achieve, Evolve!




This 50 minute heart pumping ride is set to the beat of high energy music carefully choreographed to get you going. Perfect for your mind, body and spirit, riders of all levels are welcome and are instructed to modify the workout to your ability. Our instructors will guide you though high intensity intervals along with endurance portions to give you the best workout around.

Believe, Achieve, Evolve!